Praise Xplosion 2022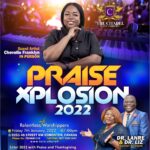 We always have a reason to give God praise. The 2022 Praise Xpolsion concert was a great success. We invited world-renowned gospel artist, writer, and singing, minister Chevelle Franklyn from Jamaica, Simply Gabriel, Dudu Angeline, Lilian Kellany, and Deadra Chester to bless us in song.
It was an awesome time in the presence of God.
Check out a few photo's from this event below.