Evangelism Ministry
OUTREACH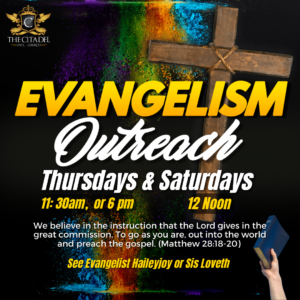 We believe in the instruction that the Lord gives in the great commission. To go as you are, out into the world and preach the gospel. (Matthew 28:18-20)
Our mission is to reach the lost and forgotten souls with the gospel of Jesus Christ by providing hope in trying times. We want to increase the Faith of all of God's people by depopulating the kingdom of darkness and populating the kingdom of God.
We are saved by grace through faith, we are simply sharing our faith and God's grace with the world.
The Evangelism ministry meets every Saturday at noon in various locations around the City of Edmonton.
For more information on the Evangelism ministry, please contact Evangelist Hailey at 587-937-4064 or the administration office at 780-468-1119 or by email at admin@thecitadelchurch.ca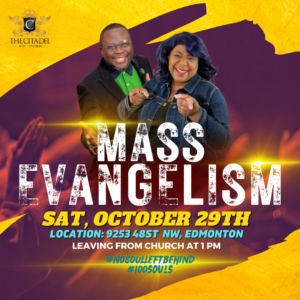 This month we are taking on the four quadrants of the City of Edmonton. We declare this city of for Jesus. Join us as we head out to save souls for Christ. Our Goal is to depopulate the kingdom of darkness and populate the kingdom of God.
Date: October 29th, 2022
Time: 1 pm
Meeting Place: TCIC Church 9253 48th St. N.W Edmonton
For more details please see the admin office.