ENDLESS PRIASE CONCERT 2023
EBEN LIVE at the TCIC Church March 3rd, 7 pm for the Wrap-Up of our 123 MIRACLES conference, and ENDLESS PRAISE CONCERT!!!! DONT MISS IT!!!!
LEADERSHIP & WEALTH TRANSFER SYMPOSIUM EXPO 2023
ALBERTA GET READY and Buckle up for the 2023 Leadership & Wealth Transfer Symposium Business Expo. Are you a BUSINESS OWNER, ENTPRENURE, COMMUNITIY LEADER, CHURCH LEADER, OR CAREER SEEKER? Well we have an action-packed conference planned just for you. Get in the room with like-minded entrepreneurs, leaders, and business owners.
Save the date Saturday, February, 4th 11 AM and be a part of the movement!
Register today visit https://www.eventbrite.ca/…/leadership-and-wealth…
Stay tuned and follow our event page for more updates.
If you are interested in exhibiting or sponsoring this amazing event, call or email us at:
Tel: 1-780-729-3400 or 587-988-3477, Email: info@citadelcentre.ca
Thank you to all of our Sponsors. This event was truly a success.
GATHERING OF WINNER CONFERENCE 2022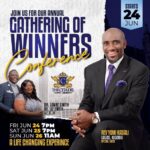 THE TCIC church is proud to present the 2022 Gathering of WINNERS Conference.
Join us
Friday, June 24th & Saturday, June 25th at 7 pm and Sunday at 11 am
for the MOST LIFE-CHANGING EXPERIENCE.
If you are a leader or an aspiring leader, this is the opportunity of a lifetime. And the best part is, everything is FREE, THE BREAKFAST, THE TRAINING, THE CERTIFICATION & CERTIFICATE. Join us for the WINNERS LEADERSHIP CONFERENCE this SATURDAY. Your coaches will be the renowned Rev. Yomi Kasali from Lagos Nigeria, Dr. Lanre Smith and Dr. Liz Smith your Host, and other transformational
WOMEN'S CONFERENCE FRAGRANCE 2022
If you are a Woman in the Edmonton Area, this is going to be the most transformational, most engaging, and most fun Women's Conference you can attend this year. We are prepped, motivated, inspired, and excited to host you at FRAGRANCE 2022. Come with your lady friends and you'll be glad you did. This is a FREE event, however please indicate your attendance through the event page.
Victory Concert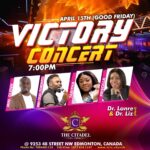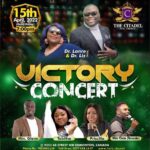 As we round up the 21 days of Victory Prayer and Fasting as invite you to our
VICTORY concert
taking place on
Friday, April 15th at 7 pm
at 9253 48 street NW Edmonton. With your host Rev. Dr. Lanre and Dr. Liz Smith. the Rennetless Worshipers and special guests, Min. Glenn, Tabitha, Priscilla, and Min. Osa all the way from Toronto.
You don't want to miss it.
123 Miracles Conference
Our 123 Miracles conference launched in August of 2021. Since then, our ministry has been flourishing in so many ways. Testimonies of healing, deliverance, prosperity and increase have been pouring in all to the glory of God. This year 2022, is our year of digging wells and by the leading of the holy spirit, we invite everyone to be a partaker in what God is doing is this season.
123 Miracles conference starts each month on the 1st, 2nd, and 3rd day of the month, meeting at 7 pm daily at the TCIC church in-person and online.