TCIC Anti-Racism Week 2022
The TCIC Church will be having our annual Anti-Racism Week February 21st-25th, 2022. Throughout the week there will be fun activities, open debates, creative arts competition, and a family night. All in the efforts of helping people to better understand racism for all points of views, as well as how to respond to racist incidents and tackle discrimination in our communities.
Social Media Blast:
Throughout the week we invite you to hop on Facebook live or post a video sharing your experience with racism in the workplace. Each day is a different sector. Monday: Healthcare, Tuesday: Trades, Wednesday: Education, Thursday: Service & Hospitality, Friday: Business & Finance
If you work in any of these sectors, or simply want to share your experience with racism in the workplace we'd love to hear from you.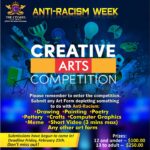 Creative Arts Competition:
If you are creative in poetry, arts, photography, digital media, drawing, painting, dancing, etc.. submit your work by February 25th for your change to win a prize of $100 for 12 and under, or $250 for anyone 13 and up.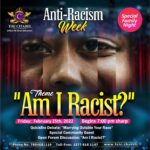 Family Night:
On Friday, Feb 25th @ 7pm there will be a family night filled with fun activities for everyone. There will be a quickfire debate on "Marrying Outside Of Your Race", an open forum discussion on the topic " Am I Racist", and a special community guest. Everyone is welcomed.
This is a great opportunity for us as Christians to celebrate and learn about our diverse culture, reflect on biases and stand together against racism.
2022 Creative Arts entries
We put together a video of all the entries that you summited. Wow, we have such great talent in our midst. Awesome Job everyone!
2022 Anti-Racism Week Creative Arts Winners
Thank you to everyone who participated in the 2022 Anti-Racism Creative Arts Competition. We have so many great talents in our midst. The decision was difficult in both categories, but this year's winners🏆🥇 are:
In the Junior Division 12 and under:
Winner of $100: Malaika (10 Years Old)
In the Senior Division 13 to Adult:
Winner of $250: Daniel (15 Years Old)
Congratulations to you both.