WOMEN'S CONFERENCE FRAGRANCE 2022
If you are a Woman in the Edmonton Area, this is going to be the most transformational, most engaging, and most fun Women's Conference you can attend this year. We are prepped, motivated, inspired, and excited to host you at FRAGRANCE 2022. Come with your lady friends and you'll be glad you did. This is a FREE event, however please indicate your attendance through the event page.
Victory Concert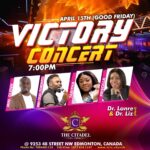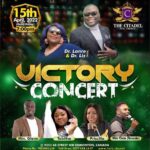 As we round up the 21 days of Victory Prayer and Fasting as invite you to our
VICTORY concert
taking place on
Friday, April 15th at 7 pm
at 9253 48 street NW Edmonton. With your host Rev. Dr. Lanre and Dr. Liz Smith. the Rennetless Worshipers and special guests, Min. Glenn, Tabitha, Priscilla, and Min. Osa all the way from Toronto.
You don't want to miss it.
123 Miracles Conference
Our 123 Miracles conference launched in August of 2021. Since then, our ministry has been flourishing in so many ways. Testimonies of healing, deliverance, prosperity and increase have been pouring in all to the glory of God. This year 2022, is our year of digging wells and by the leading of the holy spirit, we invite everyone to be a partaker in what God is doing is this season.
123 Miracles conference starts each month on the 1st, 2nd, and 3rd day of the month, meeting at 7 pm daily at the TCIC church in-person and online.